Modern Service Bank - Neo Bank
Modern Service Bank - Neo Bank
Feb 11, 2022 - 7 MINS READ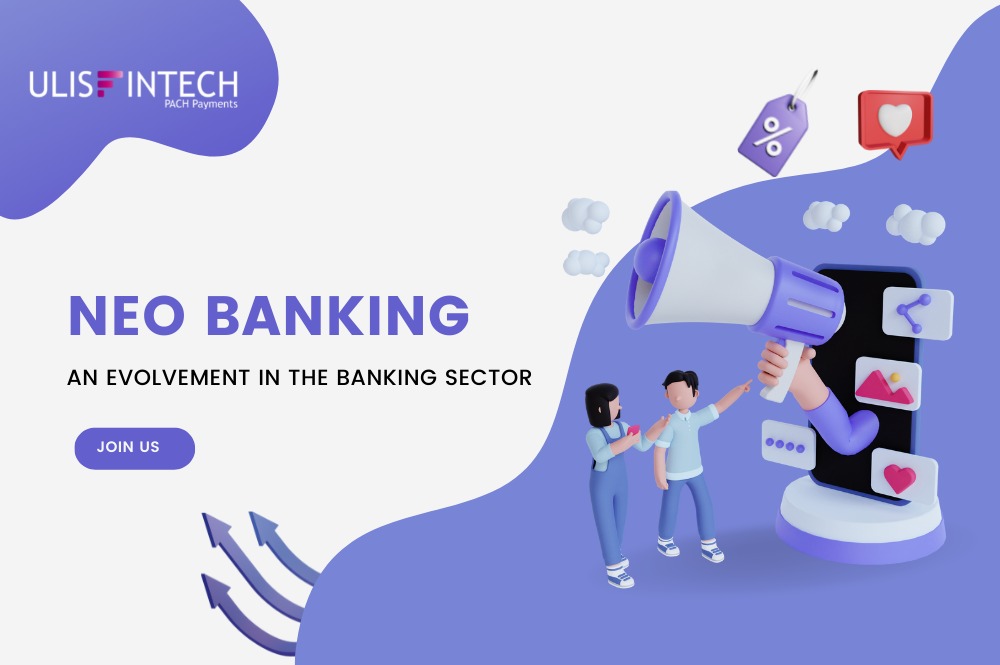 AN EVOLVEMENT IN THE BANKING SECTOR – NEO BANKING
Introduction to Neo banking
Neo banks are digital banks that do not have physical locations. Due to a shortage of banking licenses, these banks formerly operated by cooperating with established banks. However, permits for banking operations are currently issued by different regulatory bodies. As a result, licensed banks, also known as Challenger banks, are genuine banks that operate on an internet platform. These banks' operational expenses are significantly lower because they operate fully digitally, allowing them to offer modern services at reasonable prices.
Fintech companies enter into a deal with traditional banks to supply financial solutions and banking services under this approach. This concept aims to provide the best of the two to the consumer. Customers may benefit from advances in the fintech area while still using traditional banking services.
Fintech companies such as ULIS Fintech provide a spectrum of products to make banking services more convenient for their target clients. They essentially provide tools or platforms that help users manage their finances.
Neo banks get banking licenses from regulatory agencies, allowing them to operate as challenger banks.
These businesses operate under a valid banking license issued by the country's banking authority. They are effectively banks without physical locations, yet they can offer all of the typical bank's services.
Licensed digital banks have a unique business model (BaaS) that allows them to build add-on products. Challenger banks are more commonly found in Western countries.
Features of Neo banking
Improved Customer Service
Neo banks implemented an interchange fee approach to reduce customer-facing fees. Beyond that, rivals concentrate on real-time personal financial management and employ AI-powered credit ratings to speed up their decision-making.
Neo banks tap into a new manner of busy life where they may use their services anywhere, at any time. As a result, they are all pro-customer and provide financial services 24 hours a day, seven days a week. Sales of neo banks, which reduce some of the traditional banking charges, have expanded tremendously in recent years, which is somewhat predictable.
Neo Banks provide sophisticated and intelligent reporting. It's because it gives you an up-to-date account balance every time you check it. With this app, you can see all of your payments and transactions in one place.
Neo Banks are noted for processing transactions faster than regular banks. For example, if a consumer wishes to qualify for a loan at a typical bank, he must go through many time-consuming and rigorous steps.
More advanced security features
Neo banks are also noted for employing some of the most sophisticated security mechanisms. They utilize biometric verification, two-factor authentication, RBAC (Role-Based Access Control), top-of-the-line encryption technology, and a slew of other advanced security features to keep consumers secure when banking.
Services that offer value
Banking has evolved into much more than just transactions and money transfers in recent years. With its value-added services, Neo banks demonstrate this. Neo banks employ AI to propose alternative financial services to customers based on client data, account information, trends, and more.
Conclusion
ULIS Fintech builds a digital environment to help neo banks provide branchless financial services. Our technology tools assist both early-stage and established neo banks in addressing business difficulties including attracting and retaining clients, complying with regulations, and driving long-term development. Our data-driven framework for financial services enables neo banks to offer non-credit products such as savings and insurance in addition to lending alternatives. Our digital frameworks improve customer service by speeding up account opening, easing payables and receivables reconciliation, and automating reminders.
You can learn more about neo banks and other services by visiting www.ulisfintech.com, where you can receive an overview of different types of services like E-wallets, Digital Onboarding, Cash-back Managements, Mobile Money Wallets, and so on.