Converging Paths: The Evolution of Payment Rails Across the Globe
Converging Paths: The Evolution of Payment Rails Across the Globe
Jun 12, 2023 - 6 MINS READ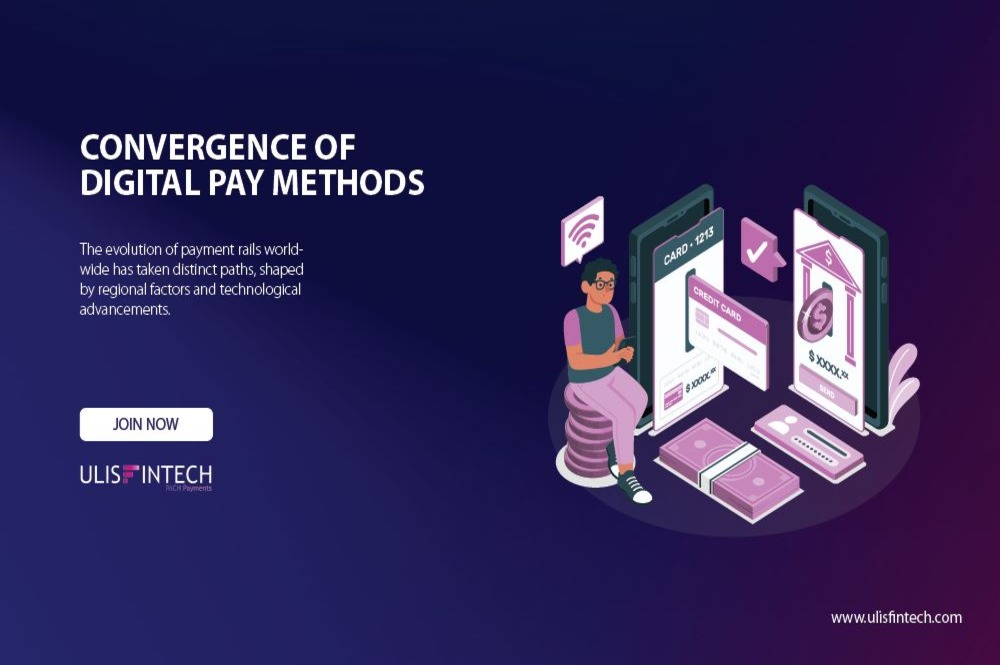 Over the past few decades, payment rails across the world have undergone significant transformations, evolving in three major patterns. These patterns, although distinct, are now converging as digitization becomes a common driving force. Let's explore how different regions have shaped their payment ecosystems and how they are moving towards a new era of digital infrastructure.
The Western Card-based Model:
In the West, the payments revolution began with the introduction of magnetic-striped cards, which revolutionized transactions. Visa and MasterCard emerged as dominant players, managing the rails and establishing a duopoly. As the digital economy emerged, plastic cards seamlessly transitioned to chip-based technology and found their place within smartphones. This facilitated the rise of e-commerce, transforming the way people make payments.
Africa's Mobile Money and State-sponsored Real-time Payments:
In Africa, the payments revolution was spearheaded by telecom companies, leveraging the only available infrastructure: mobile phones. Through e-money setups, exemplified by Kenya's M-Pesa, basic financial services such as fund transfers, payments, and government subsidies became accessible to a large portion of the population. In Brazil, state-sponsored real-time payment infrastructures emerged, consolidating multiple bank accounts into single apps under the models of Account-to-Account (A2A) and Peer-to-Peer (P2P). Brazil's Pix became popular, driving significant adoption.
India's UPI:
India's Unified Payments Interface (UPI) has revolutionized digital payments in the country. With over 300 million monthly active users and 60% yearly growth, UPI enables seamless and instant fund transfers between bank accounts. Integrated with popular mobile payment apps like Google Pay and PhonePe, UPI offers a user-friendly experience and additional features. UPI's simplicity has driven financial inclusion and propelled India's digital economy. It serves as a global inspiration, with other countries exploring similar real-time payment systems. UPI's success has transformed the payment landscape, making it more accessible, efficient, and influential for the future of digital transactions.
Middle East's Development:
In the Middle East, the digital payments landscape has witnessed significant growth and innovation in recent years. Countries like the United Arab Emirates (UAE), Saudi Arabia, and Qatar are embracing digital payment solutions to cater to the needs of their tech-savvy populations. Mobile wallets and digital payment apps, such as UAE's Emirates Digital Wallet and Saudi Arabia's STC Pay, have gained traction, enabling users to make secure and convenient transactions. Moreover, the region has seen the emergence of government-led initiatives, like Saudi Arabia's Mada payment network and the UAE's eDirham, aiming to provide seamless payment experiences across various sectors. As the Middle East continues to embrace digital transformation, the adoption of digital payment methods is expected to rise, further shaping the region's financial landscape.
China's Digital Wallet and QR Code Revolution:
China took a different path by leading its local payments revolution. Beginning with a high smartphone penetration rate and widespread bank account ownership, the country vaulted through card-based model prevalent in the West. China embraced a digital setup built on e-wallets and QR codes. Alibaba and Tencent, two private companies, played a crucial role in developing vast ecosystems that encompassed both consumers and merchants. These ecosystems transformed into ubiquitous SuperApps, revolutionizing the Chinese payments landscape.
Convergence and the New Digital Infrastructure:
Despite their diverse origins and setups, digitization has acted as a powerful convergence driver across these payment ecosystems. Digital wallets, super-apps, real-time payments, and the emergence of Central Bank Digital Currencies (CBDCs) are some of the shared elements. As payment systems enter their next phase of evolution, a new digital infrastructure is rapidly emerging, bridging the gaps between these seemingly different models.
Conclusion:
The evolution of payment rails worldwide has taken distinct paths, shaped by regional factors and technological advancements. However, as digitization continues to reshape the payments landscape, these paths are converging. The Western card-based model, China's digital wallet and QR code revolution, Africa's mobile money solutions, and state-sponsored real-time payments in India and Brazil are all witnessing the transformative power of digital infrastructure. As the world moves forward, this convergence holds the promise of a more interconnected, efficient, and inclusive global payments ecosystem.