The Role of Payment Gateway in Business
The Role of Payment Gateway in Business
Jan 22, 2022 - 7 MINS READ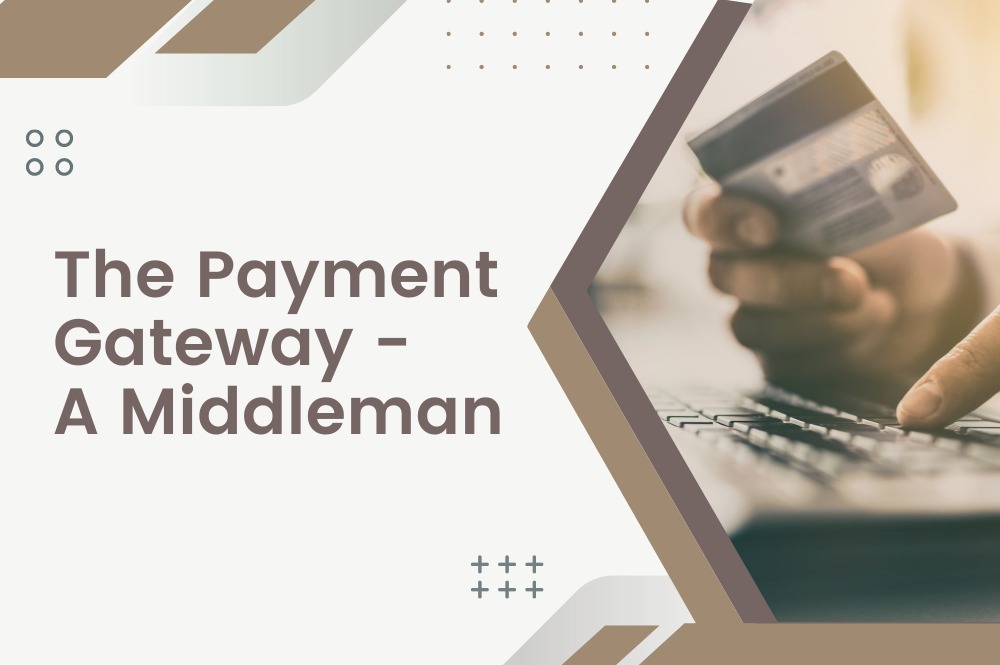 The Payment Gateway - A Middleman
Every business wants to reach bigger heights and establish more customers to buy their products. In today's technologically advanced world, if you are looking to provide a smooth payment process for your customers that can also help you in improving your cash flow, then you can trust the methods of online payments through payment gateways blindly. This eCommerce method helps in improving your customer experience and increasing your cash flow.
The eCommerce industry has grown quite extraordinarily over the few years and its growth has changed the payment landscape with time, as more efficient and user-friendly options have been made available to the customers. The eCommerce sector has developed due to the integration of innovative solutions, extensive customization, and adaptation of technological advancements. The payment systems have drastically improved over time as the customers have been exposed to more efficient, beneficial, and newer technologies that are being implemented in payment systems today. For this reason, businesses have to keep changing their services and strategies to provide their customers with the best and optimum services from their side.
According to statistics of online payments, around 82% of customers of the present generation prefer to use smartphones for shopping online due to the flexibility and convenience it provides. It also stated that approximately 80% of the present generation gets modified to shop online through social media. Therefore, it has become important for businessmen to establish payment gateway systems that are efficient and provide the maximum services to their customers, as getting the wrong payment gateway can result in the loss of potential customers and you would not want that. If you want to aim for a long-term business, success, and large profits, you should consider implementing the right payment gateway for your business.
When you establish the right payment gateway system in your business, it reflects through your company that you are concerned about the needs and convenience of your customers, and your company can be capable of providing them with the latest trends of technology in the market. But choosing the correct payment gateway can be a difficult job, as there are many things that you may need to consider.
What Are Payment Gateways?
Payment gateways are technologies that are responsible for acting as the middleman between the customers and merchants in the payment process. They transfer payment data from customers to acquirers and transfer the payment acceptance back to the customer. They help in validating the card details securely and ensure the availability of funds. Its job is to encrypt sensitive card details and pass the information from the customer to the bank securely, through the merchant. It ensures efficient and secure payment transactions between the customer and merchant.
If you want to operate your business payments through full digital mode, then we recommend you for choosing the digital products being provided by ULIS FinTech. We can help you in getting the right payment gateway services for your business that provide all the critical services essential for grabbing your customer's attention. You can reach us through WhatsApp at +91 8010470151
Critical Features Provided By ULIS FinTech in a Payment Gateway
1. Security of Transactions
When customers use your payment gateways, they enter sensitive financial information like card numbers and CVV. As their provider, you must ensure the safety of their data, and thus selecting a secure payment gateway is vital. Your payment gateways should comply with PCI-DSS and should invest in fraud detection and screening technology. The payment gateway services of ULIS FinTech provide you with the utmost security of your credentials.
2. Provides Multiple Payment Options
Many people consider using online methods for making payments. But there are different ways through which one can pay online too. Many people majorly use credit and debit cards as their online payment options, but other payment options have also come into play that is being considered by people widely, some of which are UPI, net banking, digital wallets, et cetera. Your payment gateway should provide the customers with the convenience and flexibility of choosing their preferred method of payment, which would attract more people to buy your products. Thus, selecting a payment gateway with maximum payment options is necessary and ULIS FinTech can ease your needs in such cases.
3. Fast Processing Speed
In today's busy world, clients and customers require urgent services and they do not like excessive wait times. Therefore, when considering a payment gateway system, the speed of transferring money from the customer's bank account into yours is essentially important. Businesses need to make sure of the satisfaction and comfort of their customers and thus, you should select the services of ULIS FinTech that provide operational efficiency with good workflow for business users.
4. Great Customer Support
One of the major features that your payment gateway should provide is flawless customer support. Some payment gateways do not provide efficient support to their customers and thus they have to fix their problems by indulging in manual instructions provided to them through emails. You should keep in mind that if customers are more comfortable talking to a person rather than emails, then live technical support should be provided, at least during working hours so people do not face any problems. When you run a payment system round the clock, it is obvious that some technical issues can arise, for which an active support system is needed from your payment gateway provider, and ULIS FinTech can assist you in such situations efficiently.
Conclusion
ULIS FinTech offers financial technology solutions with great expertise all around the world and it takes pride in its over-the-top IT infrastructure and naturally embedded, skillful, and qualified team of professionals that continue to provide you with top-quality services. To know more about the different kinds of digital payment gateways and how you can implement them for your business, you can visit us at www.ulisfintech.com where you would also get an overview about different kinds of services such as E-wallets, Digital Onboarding, Cash-back Managements, Mobile money Wallets, et cetera. You can also reach us through care@ulisfintech.com where all your finance technology-related queries would be attended to, and you would be provided with solutions to all your problems.